M51 WiFi AP Module Overview
M51 is a complete, small form factor 802.11 a/b/g/n/ac Wi-Fi Solution optimized for low power, low-cost, and highly integrated AP andconsumer electronic devices, themodule integrates all Wi-Fi functionalityina package friendlyto low-cost PCB design, requiringonly a few external3.3V and connection toantenna.
The module integrates a 2.4GHz 2x2 MIMO wlan chip with internal PA and LNA and integrates a 5GHz 1x1 wlan chip with internal PA and LNA.. It supports802.11n operations up to 150 Mbps for 20MHZ and 300 Mbps for 40MHZ,and 802.11b/g data rates, and supports 5GHz operations up to 867 Mbps for 80 MHz channel respectively.
The module supports AP mode and client mode at the same time and include mass service application software to reduce the research and design work ofcustomer.
M51 WiFi AP Module Features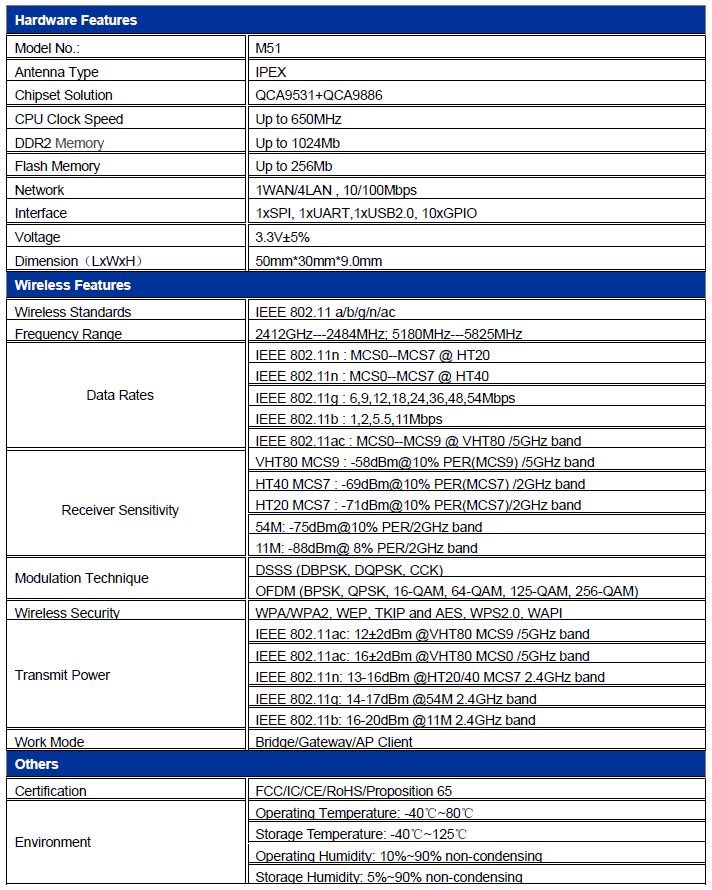 M51 WiFi AP Module Applicitions
---WiFi AP
---3G/4G WiFi Router
---WiFi Repeater
---WiFi Enabled Security Cameras
---Smart Door Locks
---Building Automation
---Smart Home & Building
---Smart Healthcare
---Industrial Sensor Controller